Sarah Alouache's début launch has caught the attention of media, influencers, and brides with her focus on authentic, modern, and luxurious gowns and dresses… and the attention of boutiques by her customer service approach rooted in her extensive expérience as a bridal stylist and boutique manager. VOWS caught up with Sarah to ask about her vision and design perspective, and how her retail expérience shapes her company and design.
VOWS: please tell us about yourself.

SARAH: I'm a dreamer, a very creative person and like to see beauty in all things. While growing up, I learned that uniqueness comes from the beauty of being your unique self.
There is something magical in all of us that needs to be celebrated! In a world where everyone is constantly comparing themselves to others, I learned that the most beautiful comes from staying authentic to who you are.
VOWS: What was/is the inspiration for developing and designing a bridal and maids collection?

SARAH: From being a bride myself and helping others find their dream dresses, I noticed that the market was greatly lacking authenticity. . . that only very few brands were listening to what brides were looking for in a dress. I noticed that most of the pictures or content put online by designers did not represent the reality.
Brides would come in-store with a picture, try on the dress and, too often, feel disappointed and end up finding something else. That's when everything clicked, and I decided to start designing my creations explicitly catered to the effortless and modern bride. A bride that loves celebrating style and fashion but most effortlessly and authentically. I create all my designs and market them in such a way that the bride can envision herself in them, and when she arrives at one of our boutiques to try on the dress her needs and expectations will be instantly met.
VOWS: Please describe your bridal stylist background.

SARAH: When I started as a bridal consultant, I quickly noticed that helping brides is more than just choosing the dress that fits perfectly; it's also about deciding what speaks to their heart. A dress that will celebrate every bit of their unique personality! The sexy, the fun, the feminine, the powerful, the romantic, the weird and everything in between. The first word that always came to me when I was helping a bride find the ONE is "authenticity".
As my role developed I became more involved in the company by attending markets, helping with selecting the new collection, developing a marketing strategy for the brand and more. I was so good at what I was doing and at understanding the process of finding the "perfect" dress that I helped the boutique expand its business in new horizons. I love having a human connection in everything I do, and I have discovered that people connect with you more easily when you are REAL and RAW.
VOWS: How did it influence the development of your brand, company and collections?

SARAH: I always noticed that many bridal brands would concentrate only on their products and forget the consumer. Bridal boutiques often find themselves bringing in new dresses and waste a tremendous amount of time marketing them for brides to connect with them. Stores would often find themselves working twice as hard and in a less efficient way. Our approach is different. . . we don't just follow the latest fashion trends. Our most significant source of inspiration is our brides, our stockists and the community of women around us
We want our brand to grow authentically as a big family! Our approach to promoting is also very different. I would describe it as RAW and Real.
For example, all of our press features are mainly focused on adding value to the bride's journey of finding her S.A. dress. We showcase our dresses on different outlets, but we also share our professional bits of advice, styling tips and tricks, and more while doing it.
Everything that we do is with purpose, to add value and in support of our boutiques. We are focusing on having the best quality of material, but we are also focusing on purposefully serving our brides in the best way possible. We are not following the path that others are taking but instead creating our own. In a world where everyone is constantly comparing themselves, doing things differently will, without any doubt, elevate our message and our voice!
VOWS: How is your brand promoted. . . and in what ways does that help your retailers?

SARAH: All our promotions are developed to enhance the visibility of our unique designs to the brides and for our boutiques. We have been fortunate enough to have already been featured in many bridal magazines such as Wedding Chick, Bridal Musings, JuneBug, Bridal Guide, Elegant Wedding and many more.
We also work closely with passionate influencers who feel connected with our brand and who are in love with our gowns. We constant working on ways to increase our connection. . . our latest addition is the "Journal of an S.A bride," where we get to share everything with our brides, such as inspiration, tips and tricks and the latest fashion trends.
Everything we do is to help and accompany the S.A bride throughout her bridal journey by staying connected to our brides and sharing everything with them! The goal of the Journal is to help the bride envision herself in her future dress, which will connect her to our boutiques.
VOWS: What else would you like bridal buyers to know?

SARAH: Being from all sides of the wheel, a bridal consultant, a bride myself and a designer, I feel so connected to everything and everyone. I cannot wait to see where this incredible journey will take us as we develop this new way of doing bridal!
To contact Sarah about her collection, email info@saraalouache.com; to view a gallery of her bridal and bridesmaids styles, visit www.sarahalouache.com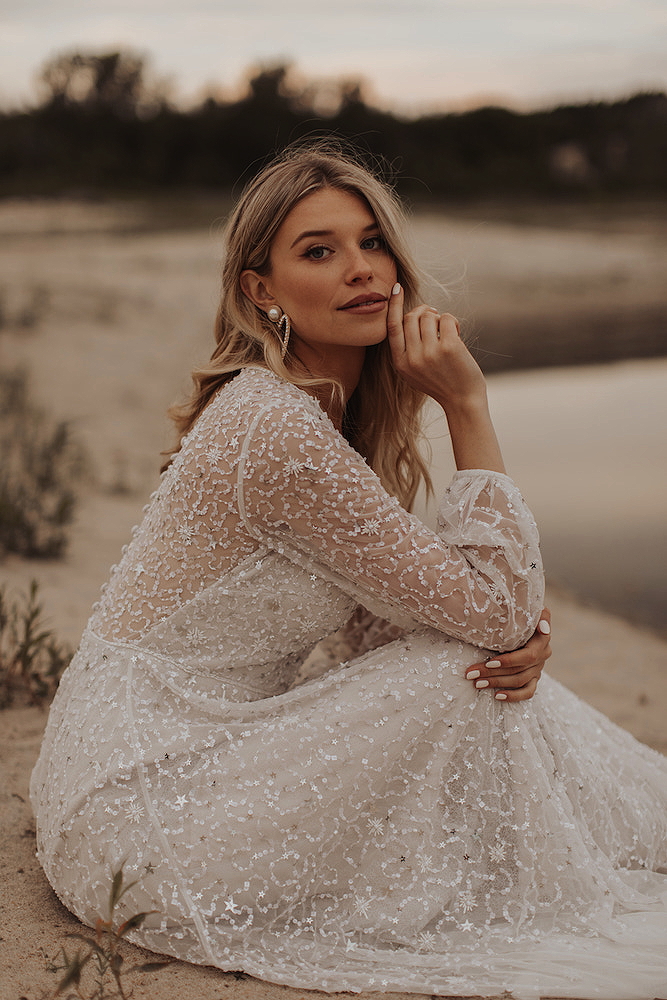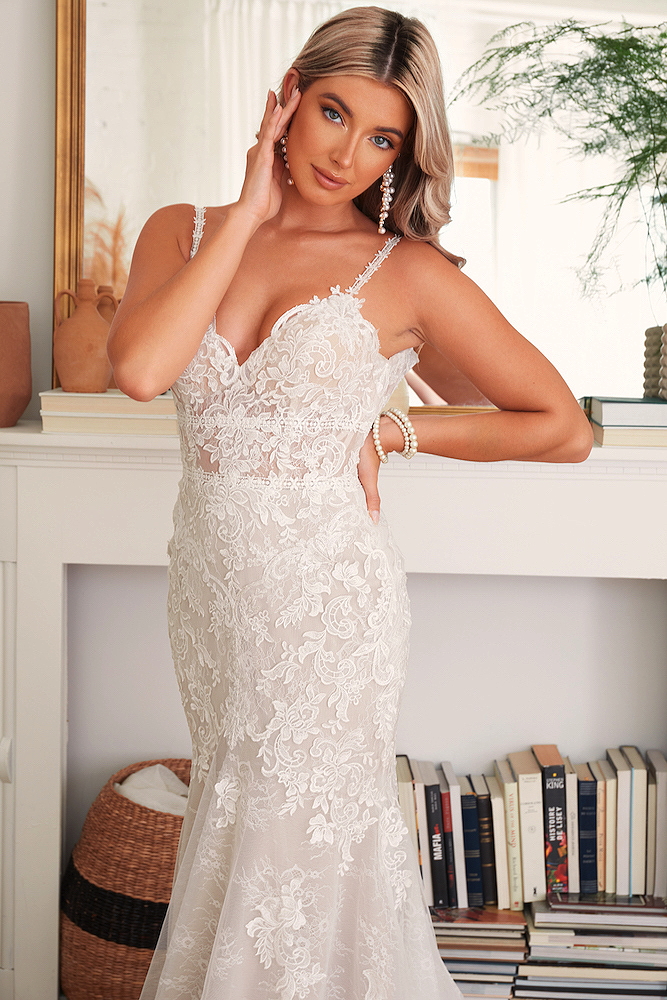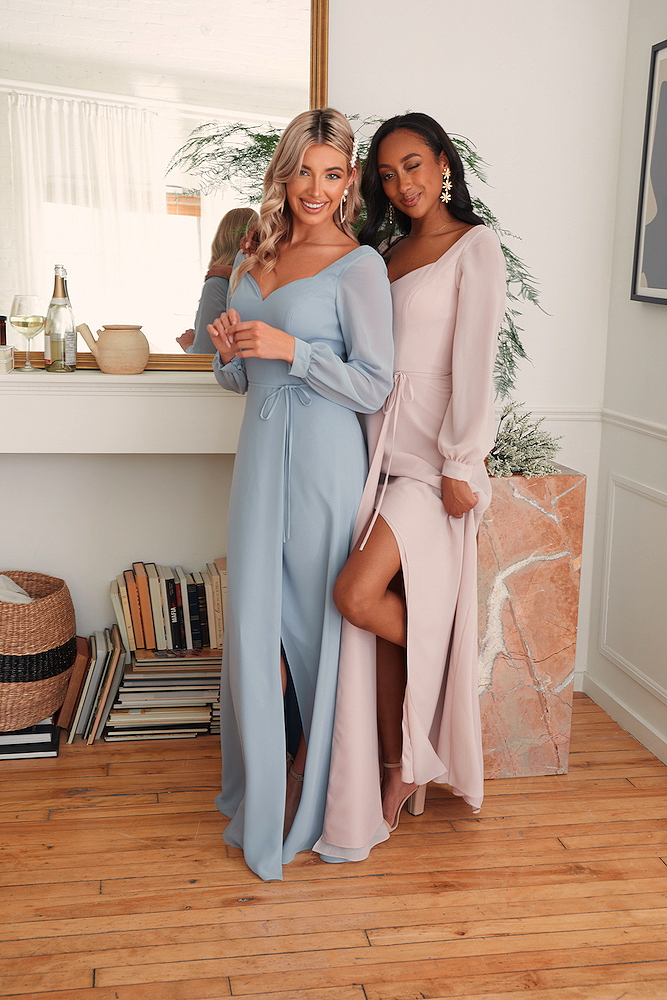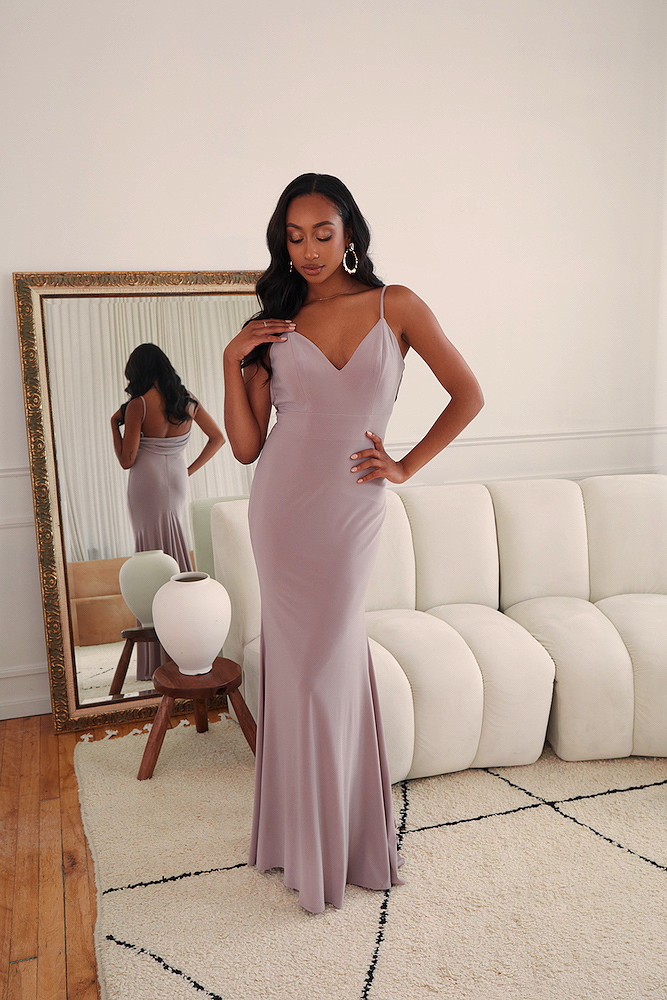 Photo Credit:
Kerstin Hahn