Moonlight and Val Stefani debut an exclusive first look at its newest 2023 bridal collections at the National Bridal Market Chicago August 28-30.

All collections will be presented: Moonlight Couture, Moonlight Collection, Moonlight Tango, Moonlight Modest, Val Stefani, and Simply Val Stefani.

According to Moonlight Design sister team, Valerie Chin and Stephanie Chin, each collection brings romantic and feminine designs to new heights with hand beaded sparkle to simple styles that focus on classic lines.

To reserve a Market appointment, click here, or call 800-447-0405, email info@moonlightbridal.com.

Some preview highlights of the style direction for Moonlight:

Moonlight Couture features lavish details combined with glamorous silhouettes. Styles feature wow worthy accents from glittering and tonal sparkle embellishments to dramatic cascades skirts. These styles made to impressed and will have you falling in love with the unique sparkle and streamlined silhouettes.
Moonlight Couture style H1524 highlights the best of this collection with its lavish tonal 3D beading. The lavish beading decorates the bodice with 3D florals and brings great leaf and vine accents to this soft A-line skirt. Beauty is in the details and the detachable illusion sleeves gives this style a glamorous touch.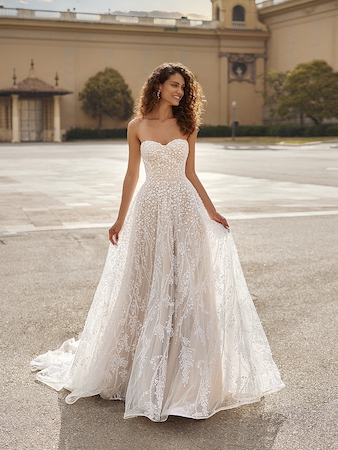 Moonlight Collection
fun, trendy, and romantic captures the essence of latest collection. These ethereal styles feature sexy leg slits, sparkling floral laces and fabrics and convertible sleeves and jackets that take any look to ceremony to reception.
Style highlight on style J6879 which features a pleated lush satin sweetheart bodice and ethereal cascade skirt that bring fairytale romance to life. The high neck tulle jacket gives this style a trendy accent that takes this look to the next level.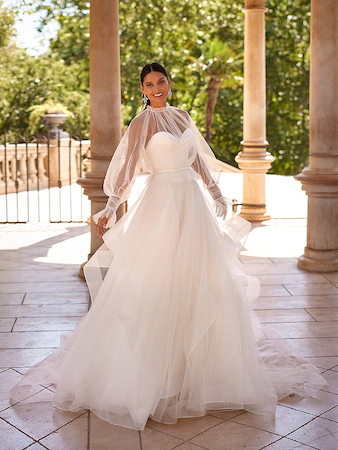 Moonlight Tango is for the modern bride looking for clean lines with an emphasis on chic accents. With a focus on sleek fabrics like crepe, beautiful back details, and garden florals. This collection features understated glamorous styles that are perfect for a contemporary bride.
Style highlight on Moonlight Tango style T982. Dainty pearls embellish this sleek crepe mermaid and the sexy leg slit gives added allure. Detachable pleated tulle sleeves adds a romantic touch to this already charming style.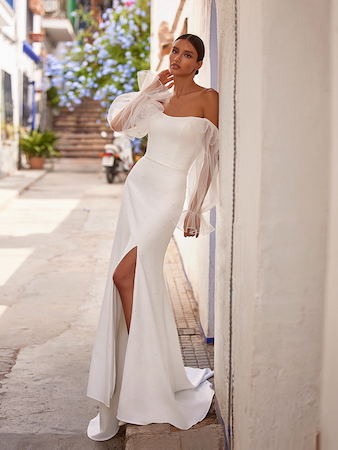 Val Stefani
dramatic, opulent, and wow worthy. This collection features glamorous statement trains, out of this world sparkle, and romantic sleeve details. Using brand-new unique sparkle details and artfully placed lace, each style takes glamour to new heights.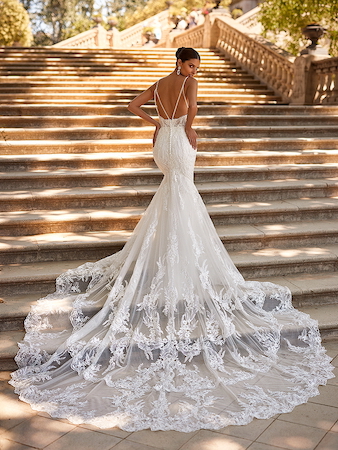 Simply Val Stefani a lightweight collection of styles for the carefree and rustic bride. With styles ranging from graphic and lively laces to new unique sparkly fabrics and accents highlights the unique beauty of each bride. The combination of breezy fabrics and trendy cut-out details add eye catching accents to each design.