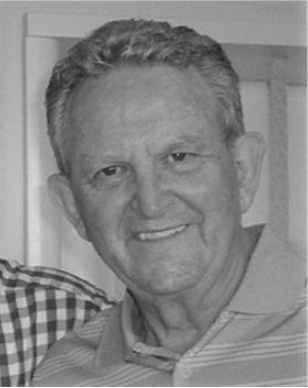 Passing of the Gentleman Giant
By Michael J. Nolte, Nolte's Bridal, Kansas City;
VP National Bridal Service and Weddings Beautiful
The President of National Bridal Service (NBS) and Weddings Beautiful, Gary R. Wright, 77, died January 2 in his hometown of Richmond, Virginia. His passing was the result of a five year challenge with Parkinson's disease and the last three years, Lewy body dementia.
Gary had been the CEO of both organizations for over 40 years. He was inducted as the only non-designer, into the Bridal Guide Hall of Fame in 1997.
I was not able to be in attendance at his funeral but the news of his passing left me crying like a 65 year young child. If I were at the pulpit that day, I know that emotion would have just been magnified. However, the publisher of Vows graciously has offered this space to share with my eulogy and give background as to both the professional and personal friendship I had with this giant of our industry.
I opened my company, Nolte's Bridal, in 1980 and two years later became the first male to be certified as a registered wedding specialist. Perhaps because we were men in a female dominated industry, Gary and I had an instant connection.
With Gary's encouragement and distribution system, as a designer, I launched the Michael Nolte Collection that at one time was sold at 40 NBS stores in the nation.
Gary encouraged me, as an author, to write the book, "Wonder-filled Weddings, my life as a planner" and graciously wrote the forward. As a speaker, I have co-presented with Gary at multiple NBS seminars both in the U.S. and Mexico.
Our management retreats in CanCun became legendary for half days of "work" and full evenings of laughter (and tequila.)
Gary was always my rock and stabilizer.
If I was considering a buy-out offer, I always ran it under Gary's eyes. (No one loved analyzing a spread sheet more than this man!) He and my accountant would confer frequently and saved me from many a mistake or an orange jumpsuit.
Just being in Gary's orbit was a special treat for those of us lucky enough to be his protégés or students. He ran NBS like a family...always remembering not just hundreds of names, but connecting people with the right vendors or each other.
If Gary gave an endorsement for a new stationery company or a gown preservation source or a marketing consultant or honeymoon sweepstakes destination...it was like Oprah's Book Club! And his advice was never wrong.
I have shared many a New York showroom with him and his wife, Peggy, as they owned 10 salons in Virginia. His presence always created a buzz and his introduction to the most celebrated designers, was an instant entry for me.
With an accent (and deportment) that reflected his Alabama "raisin" and his Virginia citizenship, this true Southern Gentleman would remind us, "It's better to be important (pronounced 'in-po-dent') to a few, rather than nobody to everybody."
One such example of the power of his introduction (and the value of following that mantra) was to the legendary Priscilla of Boston. The outcome? Well....he took great pride in learning my store eventually became her third largest account in the world.
The day prior to market, he would coordinate a seminar that gave us an overview of new trends and opportunities to network with other members. After short breaks he would reconvene us with his infamous "Beep! Beep!" (To this day, I use that expression every time when I walk into my house; as do my adult children!)
Gary was a consensus builder. When media asked for a statement about internet sales or vicious under-cutting, he worded it as kindly as possible, always wanting to "heal, not hurt."
Truly Gary practiced his faith. When he saw there was discord, "Let me sow love. Where there is injury; your pardon Lord."
He gave his full support to his companies.
As Weddings Beautiful became the leading certification program inter-nationally, Gary would make those exhausting flights to foreign countries, where he was received as a celebrity. He knew his presence would nurture the franchise holder.
His loyalty to those who made the company strong is ever lasting. Doris Nixon, now 94, joined NBS staff in 1974, Pat Mahoney and Lynda Fitch in 1978 and Barbara Holgrave in 1979...and are all still dear friends of the Wright family.
Likewise, his mother (96) , his late in-laws, his two brothers (who spoke at the funeral), were all a part of the bridal store conglomerate. His fraternity roommate, Don, (also spoke at the funeral) has remained his best friend for 60 years.
WHERE in today's social media obsessed, Instagram crazed world...do we find these lasting authentic relationships? My friendship of only 40 years, pales in comparison. Gary was my role model to be a genuine, unconditional friend.
As Gary's health declined, there was consideration that I might purchase NBS assets and become President. I couldn't imagine ever stepping into those shoes and was honored to support his vision as Vice-President.
As those of us who loved him and mourn his passing, we as a nation of bridal leaders are so very thankful that for 77 years, God loaned this brilliant, caring, positive thinking, optimistic, charismatic, servant leader to our lives. The industry will be forever upgraded because of his influence and his touch as a gentleman.