Bridal Collective will showcase all of its newest and latest gowns from 2023 Enzoani, Blue by Enzoani, Love, ÉLYSÉE Atelier, ÉLYSÉE, ÉTOILE, and ÉLYSÉE Édition collections at the National Bridal Market Chicago in August.

Also sharing the spotlight: PEN•LIV, Bridal Collective's latest addition to its family of bridal brands.

Stores were treated to a sneak peek of each collection during Bridal Collective's Fashion Runway Event held in July in Cancun, Mexico, where excitement about the style direction for the season and the debut of PEN•LIV was obvious and positive.

A summary of each brand's style direction of 2023:

Enzoani Brands: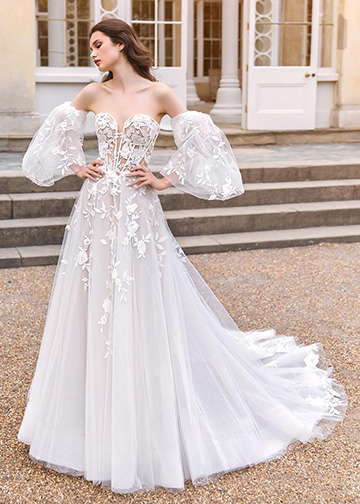 The 2023
Enzoani
collection brings effortless elegance and glamour with stunning minimalist styles, A-line gowns featuring sexy skirt slits, and all-new geometric lace detailing among a range of timeless yet updated silhouettes.
Blue by Enzoani's standout 2023 collection highlights stunning detachable sleeves, sexy corset bodices, sweet botanical lace details, and modern, minimalist gowns with a twist. This new collection also includes trendy leg slits, alluring side cut-outs, and ethereal ball gowns for a diverse yet enchanting array of bridal looks.
LOVE is sleek sophistication at its finest. 2023 Love incorporates extra glam to its go-to minimalist styles. Simply chic, this new collection also includes clean Mikado ball gowns, statement leg slits, and a new addition of beaded looks. Not only can you find lovely minimalist gowns, but also balance out glamourous beaded bodices with simple skirts for the best of both worlds.

ÉLYSÉE Brands: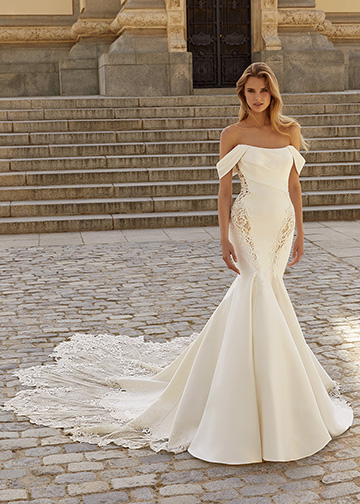 This year's 2023
ÉLYSÉE Atelier
collection features all-new intricate lace designs as well as sexy front slits and stunning double-sculpted trains on classic A-line, ball gown and mermaid silhouettes. Detachable overskirts provide effortlessly versatile styling options.
The opulent 2023 ÉLYSÉE collection features unique necklines and straps, along with brand-new A-line and ball gown silhouettes with slits to add a sexy and show-stopping touch to each gown. A new lining color option, hazel, on select styles adds dimension and a lovely sun-kissed look.
The 2023 ÉTOILE collection is all about being light, fresh, and flirty. Just like 2023 ÉLYSÉE, the newest ÉTOILE collection showcases more skirt slits on classic A-line gowns for a modern, sexy look. Ruffled horsehair A-line skirts also amp up the fun and playful vibes while floral lace and high illusion backs provide sweet details and added support.
The brand-new 2023 ÉLYSÉE Édition collection has also arrived with stunning, size-inclusive ÉLYSÉE styles. Featuring thoughtfully reimagined lace placement and superior body-contouring construction, ÉLYSÉE Édition aims to provide all our brides with the best support for an effortlessly enchanting aisle style.

PEN•LIV: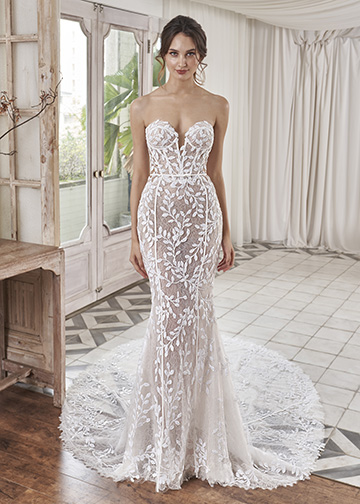 Named in tribute to Bridal Collective Founder and CEO
Mary Nguyen
's two daughters, PEN•
LIV
presents a new collection for brides looking for modern, couture gowns with a youthful yet edgy and sexy vibe. Va-va-voom!
For Market appointments, contact your regional Bridal Collective rep, or
marketing@bridal-collective.com
. Current collections can by viewed at