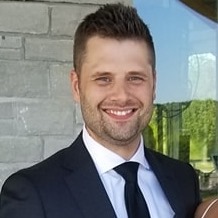 We interviewed David Marquardt, second generation owner of Amelishan Bridal in Richfield, WI, to ask him about the details of his extensive COVID-19 customer and employee plan that he will be speaking about during a webinar sponsored by BBL Systems and Gravity Payments September 15th at 11 am CST.
Note: a copy of his COVID-19 Safety Plan: Working Together for Workplace Safety and Economic Well Being will be provided to all attendees of the cost-free webinar.
VOWS: Before we ask you about the COVID-19 plan, can you tell us a bit about Amelishan, and the circumstances that brought about this comprehensive approach?
Marquardt: Amelishan is a full service bridal shop located in Richfield, WI and has been in business for 25 years. Like every bridal shop, we've never imagined having something of such magnitude affect our store and our staff.
Being a large full service bridal shop with Bridal, bridesmaids, tuxes and social occasion, it was not uncommon to have anywhere from 75 to 100 people in our store pre-pandemic, including guests and our staff of 35. We developed a pretty basic plan when we first opened that addressed the more common things like wearing masks, social distancing, curbside pick up for bridesmaids and accessories, etc.
However as we progressed in operating in the post shut down world we started to run into scenarios we hadn't accounted for. For instance, what do you do if a customer calls on a Friday and says they were in your store last Sunday and now tested positive? Or, if an employee has the sniffles, what do you do? Do you send them home? Or on a more serious note, if someone is vomiting and has a fever, how do you handle it?
VOWS: A number of bridal stores struggle with meeting safety and health requirements, while helping brides and employees deal with the stresses
of this pandemic. Though there are different requirements based on the city or state a store may be located, what specific advice can you offer
those looking to create their own action plan?
Marquardt: The truth is that no one single plan can fit all bridal shops across all corners of the country. Every bridal shop is probably going to have to take into account the localized aspects and seek the advice of their attorneys and/or local health departments to find out how best to approach a COVID plan. A plan for a shop like ours with 35 employees is likely going to be a bit different than a plan for a shop with 5-10 employees.
That being said, however, for our store, the single most beneficial thing that we could have done for our sanity and protection of the business was to find experts to lean on. Probably none of us that own bridal shops are infectious disease experts, let alone work place safety or employment law experts.
Fortunately our law firm was able to give us some valuable advice that was definitely worth the piece of mind in knowing we were progressing in a fair manner. About a month after we opened I discovered that our insurance company had an employment health and safety expert on hand that could answer any questions we had as a service to their clients.
Being able to talk with these people as situations came up allowed us to form our policy and safety plan moving forward. As situations came up we were able to run them past our advisors and put them into practice with confidence knowing that we were being fair and reasonable to employees and customers. After a while we were able to compile a comprehensive policy and safety plan and put it on paper.
However, not all scenarios could be accounted for by simply experiencing them. We asked ourselves and kind of role-played the tough scenarios, such as: What are we going to do if a staff member tests positive? Under what circumstances would we shut down? How would we do it? If we had to shut down via health department order, or because a number of our staff members got it, how could we get back to work ASAP? How would we operate while we were shut down?
Bottom line, to create our action plan, we took our experiences as well as our hypothetical experiences, worked them out, ran them past the experts, and wrote them down.

VOWS: Your plan is two-fold, addressing both customers and employees. What key details/steps are addressed for in-store and consumer-facing interactions?
Marquardt: In our store we wear masks and have since we opened back up. This is obviously central to keeping both employees and customers safe, and really does a lot to keep us from having to go down the road of implementing certain parts of our plan and does a lot to keep our employees and customers healthy. In addition, and from a liability standpoint, it protects our business as well. So masks are definitely a central part of our business and have really worked in keeping our staff healthy.
In addition, a key aspect to our plan is empowering any employee that doesn't feel safe for whatever reason to speak up, whether it's asking a customer to put on a mask or speaking with management to address something that may make the work place safer. Our employees know that if it's a choice between a potential sale of employee safety, we're always going to choose safety.
As for customers, a very key part of our plan is clear, concise and consistent communication. We make it very clear in a positive way on our website, our phone system, our appointment confirmation emails and in store signage on what we expect of customers once in our doors.
A bride showing up to an appointment with eight guests to only be told she can't have that many is not good. Clear communication to customers has been vital to customer and employee satisfaction.

VOWS: For employees and staff, what role does testing play... and why is it
central to your plan, especially considering the possible expense?
Marquardt: For the most part we leave testing up to the employee and their doctors. We certainly aren't health professionals, of course. So if someone is sick, we tell them to talk with their healthcare professional.
However, if someone travels outside the state, we do require them to be tested before they come back to work. We do pay for those tests, and have a testing service at the ready.
While there is an expense to testing, ($170 a test), we feel that the potential risk of having an infected employee among our staff of 35 is a far greater financial liability long term. Also, and more important, what if that staff member got three others sick? What if the health department called us up and said all employees need to quarantine (who wants the health department all up in their business?)?
Doing what we can to mitigate stress put on the staff and the potential financial loss is well worth the cost to test if we need to.
Also, if we (God forbid) run into a scenario where we have to shut down, we have a testing service at the ready and can be onsite either same day or next morning with results in 48 hours max. For us, we feel we owe it to our staff to find a way to pay for the tests under these scenarios.
Looking back I believe we will see these tests simply as a cost of doing business during a pandemic. I'm looking forward to that day...

VOWS: What procedures do you recommend, or have as part of your plan, for helping stylists in their interaction with brides, and in dealing with
these increased stress levels?
Marquardt: The single most important thing we can do in our store to reduce stress levels of our Stylists when working in the new normal is to give them as much knowledge, training and insight as possible. We have daily coaching with our staff on how to sell and work with brides during the new normal. The coaching includes reviewing safety procedures such as properly wearing masks, how to handle customers that may not being willing to follow store guidelines, and how to create the best possible buying experience under the circumstances. And how to read emotions.
We also coach heavily on how to deal with the emotional impacts of operating in this environment and how to handle brides that are facing tough times.
For instance, how do you handle a phone call with a bride who has a balance due for a dress she's supposed to wear for a wedding she doesn't know is still going to happen, and just lost her job?
While we are going through tough times in our store, the brides have it tough as well. They are having very tough conversations about how to have their wedding, whether or not they are going to require masks, discussions about whether or not their grandparents are going to come, or other family members. It's tough for brides. Heartbreaking. A good amount of our coaching centers on the human side of the business as well.

VOWS: We understand that you vetted this plan with legal counsel and insurance company…what impact has it had on the store and your staff?
Marquardt: The most unexpected benefit of the plan was a sense of calm and confidence not only for myself, but also our staff.
Personally I felt better knowing that if something were to come up, we had done as much as we could to plan for it, and knew where to go to find the answers I needed.
The biggest benefit to employees has been a clear and simple framework for how we make decisions in our store regarding COVID, and having something on paper that shows we have their back.
For instance, employees know that if they hear an employee was sick with something and now showed up to work, they can have confidence it was dealt with thoughtfully and prudently because of the plan communicated.
It has reduced the anxiety in our store significantly. That's not to say, however, that all employees agreed entirely with our plan and our new policies. There definitely have been conversations surrounding certain aspects of the plan, such as our travel policy. In this environment, though, it's really hard to please everyone.

VOWS: Tell us a bit about the webinar... sponsors, speakers, topic...and how interested stores can register.
Marquardt: BBL Systems and Solutions, of which I am also a representative, is hosting a webinar with Gravity Payments on September 15th at 11 am CST. Gravity Payments Founder and CEO, Dan Price and I will be discussing what bridal shops are going through right now, how my shop is handling specific COVID related issues, and valuable inspiration from Dan on how to lead through times of crisis. Price has a lot of experience in handling tough times, including the COVID shut down, and has some inspiring stories on how he made it through these tough circumstances.
Stores can sign up here: https://gravity.zoom.us/webinar/register/1215989963092/WN_hCvVPwH6QYSejjfYINsqLQ